As soon as I saw Lee Dong-wook in the trailer, I knew this is gonna be lit!! For a newbie who is just getting started with K-dramas, actors like Song Joong-ki, Dong-wook and few others and genres like dark humor, political, triller/mystery are the reasons why I keep falling for it more. (So kdrama isn't all about cheesy/cringe romance after all) I've gotta admit that this was the best K-drama I've ever watched after the blockbuster 'Vincenzo' which ruled over the charts in 2020. 'Bad and crazy' is total fun and action packed. It's definitely worth all the hype. I enjoyed each and every single episodes and would absolutely re-watch this in a heartbeat.
Number of episodes: 12
Genre: Mystery; Drama; Thriller; Psychology; Comedy
Original release: December 17, 2021
Language: Korean
It features Lee Dong-wook, Wi Ha-joon, Han Ji-eun and Cha Hak-yeon as the lead roles.
Plot:-
(The plot of this drama is unique and a bit complicated because of the concept that they choose to continue so I'll try my best to give you what it is all about but in one word- it's a really really a good 'detective show' that you must watch)
The story starts with Su-yeol (Lee Dong-wook), a righteous and practical police officer yet a bad and corrupted detective because of his ambitious personality. He chooses pet cases of his superiors and produces their desired outcomes in order to get promoted and sustain his livelihood. His life gets completely changed after encountering with a mysterious, crazy person who calls himself K (Wi Ha-joon). On the other hand, Lee Hui Gyeom (Han Ji-eun) is shown as a police lieutenant on the drug squad at the Mooui Police Department who previously dated and broke up with Su-yeol. She is also a righteous person and enthusiastic at her job.
The plot thickens when a substation officer Oh Gyeong Tae (Cha-Hak-yeon) comes across a little girl posting flyers looking for her missing mother. He soon finds the officer in charge of the case and asks for an update. The assistant inspector Do In Beom turns him down by telling him that the woman was a drug addict and a regularly reported runaway so there is no need to actually investigate. To help the little girl and keep his promise, Oh Gyeong Tae starts investigating the case even though he didn't have jurisdiction. He somehow manages to find her apartment and reaches there to discover the traces of bleach, blood and hair in a sink and is convinced that she was killed.
The rest of the story isn't just about finding out who murder her, how hero became a good cop or how they captured the drug dealers, it's all just a beginning to a greater story.
What can go wrong / what can go right when the said 'bad' guy and the 'crazy' guy join forces? Get ready for a chaotic duo in action!!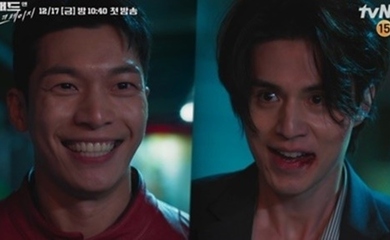 Trailer:
My views:- (NO SPOILLERS)
Dark stories with humor always excites me and this was no exception. The trailer itself unrevealed the highlights of the thriller and the adventure which is carried throughout the drama. The plot had me hooked up right from the beginning. Damn!! Hats off to those production team for coming up with such a great story, one after the other to keep the series entertaining.
Every scene was unpredictable!! After completing 2 episodes, one of the biggest plot twist was reveled and to my surprise I didn't even think the slightest possibility of it coming. I mean seriously, the way they carried the story and made the viewers trilled was intelligently amazing. At this point, I've gotta admit that Korean humor is magnificent. All the comical scenes were top-notch. I laughed way too hard. Heroic moments here and there were like fuel to my excitements. And what to say more about the amount of times I was impressed whenever the hero made a new move against his enemy.
What I liked about this drama was that – There were new cases getting added to the same story, making it even more interesting to watch. Intriguing plot twists and yet the small details were brilliantly related to each other. You won't get bored by seeing the hero fight with a same villain throughout the series. The one thing that really stood out to me the most was the portrayal of psychological illness. The story also captured the reality of domestic violence, corruption, gaslighting, and mental abuse at it's best.
The last episode was the ultimate highlight!! I'm telling you, the climax will definitely keep you on the edge of your seat. I was fully satisfied with the ending part and had a good cry too. This drama is also packed with fun and crazy heroic soundtracks. Even the opening theme is too good to skip.
(P.S: don't expect too much romance from this drama because there was hardly one scene)
Characters:-
Casting of this drama might just be the best I've seen so far. Their actings were so genuine and real. To be frank, it was so difficult to remember their Korean character names. I literally came with nicknames for everyone because I seriously couldn't able to remember them.
The chaos and the bromance between Su-yeol and K's characters were superior. They were so cool together!! (Bromance over Romance? Oh yess!!) I also loved the way how Oh Gyeong Tae was portrayed as a fierce good boy. Hui Gyeom character was like *chef's kiss*. She had all the personalities of a strong female lead like being good, independent, fearless and strong. Apart from the main leads, characters like Geun-Soo (heart mender), Jae-Sun (hero's friend), Bong-Pil (Chief police) will grab your attention. The chemistry between Oh Gyeong Tae and Jae-Sun was also amazing. Boss Yong (drug gang leader) was such an icon. All the other characters were given fair importance in their role.
(*btw that's how I remember them)
Rating:-
🌟🌟🌟🌟🌟
Overall, it was incredibly entertaining to watch. A clean 10/ 10 from my side
Have you watched this drama? What is your opinion about it? Tell me in the comments below : )