Hey everyone!! I'm back again with an another awesome BTS related post. This is a collab between me and it's ib blog. Since we both are a huge BTS fan, aka the Army, we shared some fun questions and challenges to each other. Don't forget to check the other half of our collab in her blog – here. She also have a separate page for 'army room' which I found it so interesting to read.
Now, without any further delay.. Let's get started!!
Her questions:
1. Would you rather cook with Jin or go shopping with Hobi?
Ohhh, that's an interesting question. I'll probably go shopping with Hobi. As much as I love cooking with Jin, I also love going out. Besides, Hobi has a very bright personality, who stays hyper active all the time. Comparing it with my introverted nature, I think it'll be fun to have someone who drags me out of the house to hang out.
2. Who did you think were the oldest and youngest when you first knew BTS?
At first, I thought Jimin was the youngest (because of his height) and RM was the oldest. When I first came to know about them through interviews, RM was the leader and he spoke the most so I judged based on the usual fact that – most leaders will be the oldest.
3. What's your favorite part of being an ARMY?
There are so many!! After becoming an army, I got to see the fandom raising their voices for a good cause, on regular basis. I love how they give comfort, spread kindness and speak of self love taught by BTS through their music and campaigns. I really feel proud to be in this fandom.
4. Which member's Vlive do you love the most and why?
Aagh, it's unfair to pick one. Each member's live are differently unique and engaging. RM usually comes live to speak about the upcoming schedules of BTS, his working experience and explanation to the doubts asked by the fans regarding everything. Likewise Suga speaks mostly about muisc, Jimim normally comes to chit-chat, V comes to play his favorite music to army, Jhope vlive is about random stuffs.

Now that I think about it, I tend to enjoy…
….Jungkook's Vlive the most. Maybe it's because he comes so rarely on live. When he does, he leaves my heart fluttering with his voice, singing and cute charisma.
Other than that I enjoy V's live too when he plays and recommends his favorite songs. That boy has got some great taste in music out there.
Jimin's live is something like sleeping on your comfy bed after going through a rough day. Every words that comes out of his mouth are love and healings.
5. Did you have get confused by the members when you first became an Army? Which members?
Yeah, totally!! V and JK looked kinda similar to me at first. Now I feel so stupid.
6. What's your funniest BTS experience?
Me trying to cover their dance performances is the most funniest of all experiences.
I literally lost my breath trying to do 'On' performance. After that, I had a mad respect for our boys. Like how- 🤧💜
Me and my sister once tried to record us dancing to 'boy with love' and 'idol' choreography. It turned out so hilarious that I still laugh by looking at those videos. 😂
7. What's your favorite BTS experience?
Watching Run BTS shows holds a very special place in my heart. I remember how I was so depressed back then, like everyone and everything around the surrounding made me angry. Yes, I'm talking about the first time lockdown was implemented. I felt like my life was falling apart. That's when I started watching this reality show where BTS members play any random games. They made me laugh. I was so happy seeing that show and that happiness felt so real!! Those late nights watching Run BTS episodes while laughing out so loud still remains as my favorite BTS experience.
I also got close with my cousin. As we grew up, our personalities were at both extremes but suddenly we had lot in common to talk about after she became a BTS fan. It was like, BTS helped me to reunite with my childhood friend again.
8. If you could meet your bias(es) in real life, what would you say to him/them?
That'll be so great to someone who inspires you in person. I'll say- "I can't believe my eyes, I'm so happy to meet you. You are my biggest inspiration. (I'll probably cry at this moment). Your music and voice is so damn addictive and your personality outshines everything. Thanks for always spreading self love, comfort and healings to all of us. I don't know how to thank you enough. Thank you… Thank you for existing and showing us the qualities of a true gentleman!!! I'm hoping to find a life partner like you (*laughs)"
(I'll probably be shy, overwhelmed with happy tears, stuttering and not being able to talk)
9. BTS in the Soop or Bon Voyage?
Answering this question is harder than I thought. Watching 'in the soop' is like a healing therapy but I'll pick Bon Voyage.
Let me tell you the reason why. I love traveling and I'd always dreamt of traveling to all the beautiful destinations in the world. I have a huge list like France, Korea, Switzerland, Thailand, Singapore Maldives, Norway, New Zealand, Hawaii and many more. Sadly, I never went on any holiday trip, world tour or travelled outside the country except Oman and Saudi. (Now we are stuck in home because of pandemic) Thus, watching BTS travelling show right from packing their things, travelling in plane, staying in hotel to visiting places and returning back felt like 'going on a virtual tour with my friends'.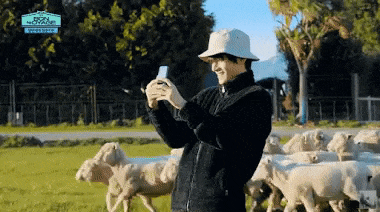 10. Did you miss JK's recent mini concert?
Yes, damn it, but I watched it the very next day!! I really felt alive after seeing him sing especially that last rapid fire performance. It made me feel like I was in a middle of a Jk's mini solo concert. (kinda like a midnight pajama party) Party, party, yeah!!
Challenges
1. I challenge you to draw this tiny tan image:
Okay, challenge accepted!! I suck at drawing from real images. Starting was good and RM also came out pretty well but after that it turned so hilarious. Even I can't identify each tiny tan members. Look at those hairs (please don't laugh 😂 )
2. I challenge you to make a aesthetic photo edit of your bias.
I love this challenge!! Editing is my most favorite hobby. My bias is Jimin so I chose serendipity, my favorite solo song of him as the theme. I put my heart and soul into it and this is the result –
I also love how he effortlessly looks handsome in just plain black and white shirts so I made another edit:
Thanks Ib for this awesome, fun collab with me. It really felt good to have this conversation with you. 💜
What will be your answers to these questions? Tell me in the comments below.
Signing off for today ✨