Everybody loves to binge-watch a good series but sometimes we lack suggestions and find it difficult to decide what to see next. Here are some of best shows and dramas that are currently available in Netflix, which I found it worth sharing. This is my honest review and also a recommendation if you are looking for one. (No spoilers, just ignore me fangirling in between)
I'm damn sure no one will be disappointed with my movies or series interest. That's because all the series that I watch almost has every genres in it like romance, mystery, comedy, triller, drama, dark fantasy which satisfy everyone's needs. If you scroll down you'll probably see me from going dark themes->teen/comedy->soft/slice of life->kids/friendly series. Truth to be told, like salt in the food, I like to watch some dark themes in every series. I personally think only this genres have good storylines, great character development and best cliffhangers at the end.
So, Let's get stared!!
1. The Vampire Diaries
It remains as one of the best series I'd ever watched till date.
An ordinary teen girl caught up in between two brothers who just happens to be a bad vampires adds more drama, mystery, romance and adventurous plots. A numerous problems awaits them, enemies in different forms and how they tackle it every time is what the series is all about. It gets even more interesting after third season. All the episodes and scenes will definitely make you sit on the edge of your seat.
The plot is too complicated and twisted to explain but makes it easier for the viewer to fall in love with this series right from the first episode with enough horror, dark suspence, revenge, romance along and satisfying humor scenes in between.
What I love about this story is that the two Salvatore brothers fight like dogs when it comes to a girl but in the end they would risk their own lives to save each other. It portrays the perfect brotherhood, friendship and love relationship that everyone get jealous of. There are endless number of persons introduced in every episode and each of them have an amazing role and character development. This series delivers a meaningful message that no one is good or evil in this world, it's only a matter of who is saying the story.
I can't even count the number of times I watched each and every episodes. I was totally obsessed with this one and when it finished, it took me more than two weeks to come back to reality so I'll give 10/10.
2. The Originals
I've never seen any spinoff series getting more success except 'The Originals'. The series follows vampire-werewolf hybrid Klaus Mikaelson as he and his family gets involved in the supernatural politics of New Orleans. It has lot of family issues and history, romance and irresistible hunger for revenge.
Klaus Mikaelson, the main protagonist, was one of the best written and executed character. He is considered as the evilest among evil and it never not looked better on him. His actions, expression and dialogues will definitely give chills to the viewers. If you wish to watch them directly without 'The vampire diaries (TVD)' then you probably won't understand so I suggest you to at least watch three seasons in TVD and then move on to this one.
There will be nothing like 'The Originals' series ever made in human history and I stand by that. After this show, 'Always and Forever' had a whole new meaning to me. This show taught me things I never thought was possible to know. It made me laugh, ugly cry and above all made me realize the power of love and trust. It's quite different from other series and took a new perspective to convey the message "Family above all".
A little warning: Compared to TVD, this series is much more darker and contain intense fighting, scenes with blood flows, vampires feeding, heads rolling on the ground. If you are under aged or a week hearted person, watch it at your own risk. It's definitely worth it.
I don't know how much to give because I'm so in love with this series. When the show ended, a part of me died with it too. I badly want to give 10/10.
3. Stranger things
No matter how old you are, what genre you like, this is an must series to watch. Supernatural creatures crawling on our earth and the kids struggling to face them with a new girl who has powers – sounds more trilling and exciting, isn't it? It also has the best hilarious moments in between.
Stranger Things is an American science-fiction horror drama television series created by the Duffer Brothers. When a boy goes missing, his mother and friends start a mission to find him along with the help of a police and strange girl with powers respectively. On the other hand, another friend from a group of teens also goes missing and they too starts finding her, involving more drama and thus resulting in fights. Eventually, the kids and the teens unite and witness supernatural forces and secret government exploits. As they search for answers, the children unravel a series of extraordinary mysteries and together they fight against them.
Most perfect sci-fic horror series till date so I'll give 9.5/10.
4. To all the boys I've loved before
It's an american teen romantic comedy Flim triology series based on the novel by the same name written by Jenny han.
She is shown as an inward person who writes secret letters to all her crushes about how she truely feels but locks them in her cupboard instead of sending through post. When one day her sister delivers all her letters to respective persons, things take an unexpected turn for her. They all come at once confessing their feelings. This remains my all time favorite romcom movie series.
Okay first, every girl deserves a guy like Peter Kavinsky in their life.
As a music lover, this series has the best soundtracks. The way they moved to next scene and continued the story was so aesthetic and beautiful. I don't usually like watching full romantic movie but believe me this was too good so I'll give 9.5/10.
5. The Umbrella Academy
The Umbrella Academy is an American black comedy superhero series. The story starts off with a specially borned seven children who are then adopted by a billionaire Sir Reginald Hargreaves. He turns them into a superhero team called"The Umbrella Academy", by giving different powers to each one. They live with their robot mother for years while fighting crimes, doing missions to save the world. Later, they depart on their own ways and live separately until the death of their father's news arrives and the apocalypse of the 'end of the world'. How will they save the world, solve the mystery of their father's sudden death and reunite their broken family is the rest of the story.
It was entertaining till the very end so I'll give 8/10.
6. Locke and key
Locke & Key is a American supernatural horror drama TV series. The plot is what excited and dragged me to watch. A family moves into their heritage residence when their father dies. Slowly the children begin to find magical keys through whispers which unlocks various doors in magical ways. The key can be used to enter into someone's mind, to detach our soul from body for some time and many more. All they have to do is explore and find out how they should use them. It becomes their responsibility to find out more about their father's past and the heritage that they must protect. They have no time left because a evil character is shown as searching for these keys for her own mischievous purposes.
It has only one season with 10 episodes so I completed it within just 3-4 days.
It was somewhat unique and interesting to watch so I'll give 7.5/10.
7. Put your head on my shoulder
This was my first and last Chinese show I'd watched so far. Thus bear with me for the long review. I got so many recommendations but ended up picking this as my first drama to watch. It's also my first time seeing a series in a complete unknown language. Yes, I've watched many Animes before but they were all English dubbed. Even though many dubbed versions were available for this drama, I decided to watch the original version, that is in Mandarin. English subtitles were there to save me! I hesitated to watch K-drama or Chinese dramas in the beginning thinking that it's nothing but a show filled with cheesy and silly romantic scenes. Now I understood how I was completely wrong.
This rom-com series was so heartwarming, hilarious and lovely to watch. I'll put this under 'Slice of life' gnere.

First of all, all the background and scenes are so athestic. I also loved how they constantly used different sound effects in between like dog barks to show his stubbornness with anger, meow voices when she wants something or feels guilty, or blig sound to fill the awkward situation. I think these adds more charm and fun to the drama. It also has the best side character developments.

The plot is simple – She is cheerful, sweet and ambitious to get a job in advertising while he is a nerd, straight forward, handsome and famous student in physics with high level of intelligence. Both their personality are at both extremes and how they get together is what make the story keeps moving. The show centers around simple matters on how they become friends, deal with misunderstanding, embarrasing moments, awkwardness, innocence, jealousy and start their relationship to finally find love. All the scenes are purely innocent and I guess everyone will love watching it without getting cringe. It does not have any villains, dark character with evil intentions or too much unnecessary dramas.
There is a Bonus: Easter egg scenes at the end of each episode. It's either a extra scene that was left unsaid or a perspective from another character. I always look forward to it because it gives some beautiful explanation to a particular scene.
As I said, I'm not a fan of cheesy, so-called-romantic series but this was quite different and all the scenes were quite to the ground. The best part is, it has a happily ever after. I'm a sucker for happy ending stories. It's so hard to find a movie or series with hopeful and happy endings these days. This drama left me smiling from ears to ears so I'll give 9/10.
8. Oddbods/ Sunny Bunnies
Oddbods, also known as The Oddbods Show is a Singaporen-British animated comedy television series. It's mainly aimed for kids but believe me, everyone will love it. For an adult like me, I do not recommend to binge-watch it like we usually do but if you are having a bad day or feeling stressful, it can make you laugh. There is no need to follow the episode orders since none is connected with the other. All the episodes centers around seven cute furry characters who live in the small town of Oddsville. They like to play, have adventures and get into all sorts of creative mischief, thus making the show even more hilarious.
I used to watch it with my family sometimes, whenever I get very less time.
Sunny Bunnies is also about furry little bunnies which hop through wild adventures as they find solutions, fun and sometimes mischief wherever there is light. Both are available in Youtube too. It's totally hilarious and fun to watch so I'll give 8/10.
9. Outer Banks
Outer Banks is an American action-adventure mystery teen drama series.
The plot is set in the outer banks of North Carolina where there is a social divide between wealthy residents and working class locals who call themselves as kooks and pogues respectively. The story is about a group of teen pogues – John B and his three best friends who hunt for a legendary treasure which is linked to his father's disappearance. Constantly living under the injustice and the discrimination caused by the kooks, their hunger for money increases causing them to fight against them, the law, police and even their own parents.
Each cast members has an interesting personalities and portrays the perfect image of friendship. Treasure hunting stories while solving some riddles is something that always hooks me up.
It was exiting, thrilling to watch with it's plot set in a new and refreshing atmosphere so I'll give 8.5/10.
10. Vincenzo
Vincenzo is a 2021 dark comedy Korean drama.
I shouldn't have picked a dark concept as my first K-drama to watch because they seemed like speaking fast, had too much stories to catch up (about mafia, organization and laws) and thus it was difficult for me to read the subtitles, understand their names and get used the Korean setting. But still, I won't regret it because I got used to it right after the 2nd episode. Frankly, you need to have patience because each episode is near about 1 hour 30 minutes and the actual picture gets more clear only from second episode.
After the death of the notorious 'Mafia group leader', the story follows his talented Italy-Korean consigliere, Vincenzo, visiting Korea to handle his personal unfinished business of getting 1.5 tons of gold hidden safely under the basement of Geumga Plaza. He encounters a Jipuragi Law Firm run by Hong Yoo-chan who resides in the plaza along with other tenants. Seeing the cruel and vicious situation around him, he then joins hand with a witty, clever young female lawyer through a mutual. Together they help the tenants, fight ugly for justice and against the dirty politics and law.
The plot is very intriguing and clever and thus will make the viewers to get fully immersed into it. It also have many twists, betrayal, legal thriller with hilarious scenes in between. The continuous fight between the main protagonists and main antagonists is so gripping to watch, especially when Vincenzo comes up with many creative and unique methods to defeat his enemy.
The background music was at it's best, the mix of Korean and Italy opera music added more charm and hilarious effects to the scenes. Since it was released on 2021, there are some relatable and hysterical references to lockdown and current situation. The comedy in this drama is top-notch!!
No character in the drama is normal. Each and everyone has an excellent role. I loved how Vincenzo is shown as a badass, ruthless, criminal minded mafia throughout the series and yet the tenants make him scared of little things, serves awful food, gets him involved in silly fights with the local thugs and many more. It makes it even more hilarious and fun to watch.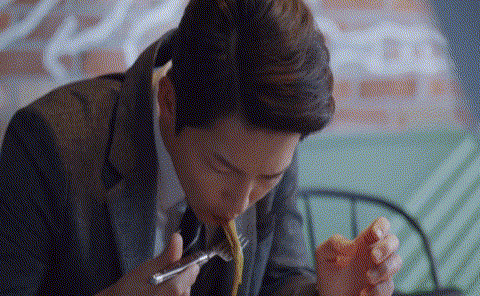 He uses many Italian quotes, I legit fell in love with his accent and its thought provoking meanings. It also has, you know what they say, a nail biting finale.
After this drama, I personally think they will remain as the most iconic duo in film industry. There are no much romantic scenes between them. They keep their work together as professional and remain as friends until the end of the drama even though they act like a married couple sometimes. Together they use their brain to create new plans and defeat their enemy. Maybe this is what makes them the most powerful couple.
Filming a series flawlessly is like painting, a art; you need to put time and effort into it and those people who worked on this film knew what there doing. Splendid cinematography, clean flashbacks and astounding acting. This is an perfect example of art so I'll definitely give 10/10.
Have you watched any of these shows? What will be your recommendations? Tell me in the comments below.
Signing off for today ✨